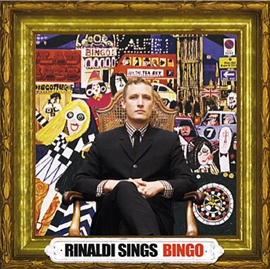 スティーヴ・リナルディー率いる英国ロンドンのモッドプロジェクト、Rinaldi Sings(リナルディー・シングス)が2ndアルバムとなる最新作"Bingo"をリリース。全11曲、こちらで一足早く入手可能です。
Officiall Website
こちらで試聴できます。
MySpace
NEW RINALDI SINGS ALBUM – available to order now!
The new RINALDI SINGS album, 'Bingo', will soon be available to buy through all the usual outlets, but we're giving our previous customers, and people who have contacted us via the website in the past, the opportunity to buy the new album long before it hits the shops. If you order the new 11-track CD now, it is ready for immediate dispatch and you will own it six weeks before you can get it through other outlets.
To order the album, go to the official Rinaldi Sings website now. To listen to a taster of tracks from the album, go to the MySpace link below...
RINALDI SINGS | ORDER THE NEW ALBUM NOW
Order from
Rinaldi Sings Official Website
Listen at
MySpace